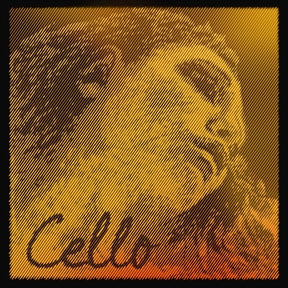 Evah Pirazzi Gold Cello strings are refined and powerful. Their elegant sound is clear, full, and with character. There is a variety of overtones with great projection, and no metallic sharpness.These extremely responsive strings react quickly over the entire dynamic range, with any level of bow pressure. Reduced playing-in time allows your instrument to achieve its full sound spectrum very quickly. This new set also works well with electric or amplified cellos.

All Evah Pirazzi Gold cello strings have their own individual character while the combination creates a harmonious set. The A string has a warm and silvery sound that will satisfy soloists. The D string has charm, brilliance, and lightness, while the seamless transition to the G string allows the sound to become very grand and develop an impressive radiance. Finally the vibrant and resonant C string provides the player with a focused direct sound. 

Available for 4/4 cello in medium gauge with a ball end, these strings are extremely durable. A and D strings have a high-tensile steel core, wound with chrome steel flat wire. G and C strings have a steel rope core with tungsten winding.