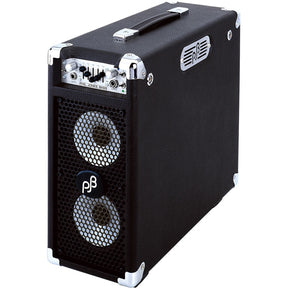 PJB has boosted the standard Briefcase's already stellar performance.  The BG-200 amp has all the bells and whistles of the original Briefcase, along with an extra boost of power!
In order for the two 5″ speakers to handle the boosted 150 watts, PJB had to design a completely new 5″ driver. This new speaker not only has a larger and more efficient motor (it is 2 dB louder!), it also has better high and low frequency performance.
PJB changed out the vent and replaced it with the "RALFR" technology from the Double 4 BG-75. The result is richer, deeper, more tuneful and organic bass.