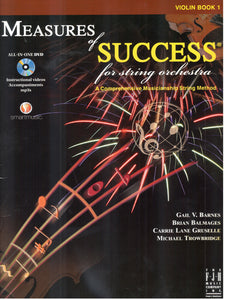 Measures of Success for String Orchestra
A Comprehensive Musicianship String Method
by Gail V. Barnes, Brian Balmages, Carrie Lane Gruselle, and Michael Trowbridge

This is the first book in a series of string orchestra method books aimed at structuring and offering content for orchestra classroom curriculum. The unique chapter organization provides a goal-oriented format organized by school quarter. Includes a wealth of material including classical and world music. Play-along accompaniments feature demo and performance tracks with professional musicians, and video tutorials showcase master teachers and students. Fully integrated with the National Standards for Music Education and aligned with the ASTA String Curriculum.
***NOTE: Please specify which instrument when ordering.***